---
The Day in our Life 19.11.89
It is usual to award a special day of the year, decade or century as the marriage of the year or something like that. I can say: we had a day in our life that we had to wait for more than 40 years and that we will remember for the rest of our life.
Initially this is a quite usual Sunday, the 19.11.89. We sleep late though the weather is fine and the sun is shining. But it is rather cold and we have a rough eastern wind. So we start slowly and during breakfast discuss what to do today. I am somewhat curious about the events at the German border since the last 10 days. We have only TV-experiences or seen the crowds "from the other side" in our town. But in the past we as well often stood in front of this wall and had argued what may be behind. And as we live near this iron curtain it is like a cut of ourselves.
And we have heard from others who have been there since last Sunday, when things were uncertain and the people embraced each other. At this weekend we have a stampede of DDR-visitors in BRD-towns. And what shall we do now? I would have tried an attempt earlier and by bicycle but it was too cold and it is insecure, where the border is open without visum. Today we decide to ride by car towards the border and observe the situation. Annika and Stefanie will come with us.
We take the passports, roadmap and a bag of oranges (as if we would visit the zoo...) and then start via Stöckheim, Salzdahlum, Ahlum. Eventually we see more and more Trabbis and Wartburgs (the usual DDR-automobiles). We come to Schöppenstedt, which is usually a sleepy town. But today there are great turbulences, the streets are full of parking cars and the crowds stroll along the shopping lanes.
We turn towards the new border crossing Mattierzoll. This would be a nice entrance to the eastern Harz-mountains, which we have never seen. The landscape hereabout is very lonesome, it is named Grosses Bruch, a former swampland, farmland today. At Mattierzoll there are volunteers who give their advice. We cannot cross the border without a visum and have to leave the car behind at the parking lot. The last km to the border is to walk. Many others do the same and enjoy their lucky feeling about the new situation. It is much to be seen when the people from the DDR come along. Many get gifts and magazines through the open car windows. But one Trabbi has a gift himself: the western border guards get some bottles. We argue if the eastern collegues have got the same?
We end at the border and must go back. But we hear, that a new crossing will be opened today: from Schöningen to Hötensleben. And this is a kind of festival, I am somewhat afraid of the crowds of people and vehicles at such an occasion. But there is nothing to discuss: we have visited this spot, the Fährhaus Hötensleben, a lot of times. Since we had various foreign guests over the years we always showed this strange German problem to them. So we have been there with Tiziana from Italy, Ann from Uganda, Pierre and Sylvian from France and Teresa from the USA. This year we have missed to show this to our guests from France, New Zealand and Spain. This was a mistake for they would have seen a piece of history.
But now we want to dive into history ourselves. We feel very curious and ride to Schöningen. This area is stuffed by visitors from the east as well. The access road to Hötensleben is signed. But soon there is an end, volunteers of the THW (Technisches Hilfswerk, Technical Assistance) help to organize the parking situation. From this point busses will commute to the border. The raod looks like the trail of a caravan. Cars, busses, bicycles and many pedestrians try to mix as well as possible. We wait for a bus, but they are full and can only pick up a handful of passengers but not us. But soon the friendly driver of a car stops and offers to take us with him. We get in happily and at once ask "You are also from the other side?" But to our disappointment he tells that he is from Helmstedt and wants to make a tour by car. We just had decided to resign to do this in fear of a traffic jam. But we get to the border in a comfortable manner this way. At the Fährhaus we say Thankyou and Good Bye and prepare ourselves to cross the remarkable line by foot.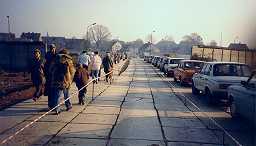 Hereabout are some snack booths and we first get a fried sausage to observe the scene in peace. The road at the breakthrough of the borderwall looks like an ant trail with pedestrians and cars in both directions. Finally we join the queue, and I say "We have been until here and here but not until here" as we enter the bridge and stand just in front of the gaping walls. Let us vary the best known words from the moon: "These are small steps now, but those will be giant in history" or something like that.
Heidi's entrance is not quite "giant". It is difficult to look around all the time and to walk on an unusual terrain. She overlooks a gap between two concrete panels and stumbles as long as she is on the ground. This is the way we conquer the DDR. For nothing is hurt we can laugh for a while. We pass the border control and get stamps in our passports. A glance to the so called death strip: all is plane, some barriers against heavy vehicles and tanks as we say "Spanish Horsemen". Some grids and barbed wire rolls are piled on a heap. Up above on hill there is a rotten observation tower. This may fall to decay from now on and I say to the children: "Look at the tower, it will soon be vanished!".
(I was wrong: just at Hötensleben they have founded a museum of the former frontier constructions, buildings, and instruments).
And now we enter the village and are very curious about the appearance and atmosphere of the scenery. Just behind the frontier walls there are small ducked houses, not rotten but poor and it is the question how they are able to live and breathe here. On a rough pavement we go up the street and pass the long queue of cars towards the west. At the corner above there is some steam from a strange vehicle: this is a field kitchen. But they do not produce a hotpot of peas or beans or any other food but there is hot water available to mix a cold-weather-toddy with a portion of Jamaika Rum. On the opposite side there is a drugstore, in their front garden they have placed some figures and signs to welcome the guests from the west. The door opens and a woman comes out: "Heartily welcome and have thanks that you all have come, we are such a dead location". We can answer, that we are thankful that we are allowed to come here, but than stand in silence until the woman cannot overcome her tears and returns into her house.
We cannot detect any inhabitants, may be they all have gone to the west. At the next corner there is a restaurant, it is jammed, we have just the time to inspect the interior. Furniture, lamps and curtains look like during the 50th when we were young, charming in it's way. We now look for the church at the center of the village. Soon we stand in front of the wide open door, we hear music of an organ and singing. We go in, can there be a better occasion to enter a church?
And now - in silence and may be with wet eyes - we can meditate what happened. The people sing "Lobet den Herren" with the organ, the candles are lighted, the altar and organ are rich baroque, there is to be read the date 1691 anywhere. We continue to meditate and cannot believe it. In the morning at home we had our boiled egg, the tea still stands on the table and now we are in another world just in a village which we had observed so often but that was unreachable. All people around have wide and happy eyes.
We leave the church and detect another one that is bigger and well equipped. This is the catholic church, but it doesn't look as romantic as the "poor" evangelic church before. Here are some guests as well and the catholic priest is still there. He shakes hands with everyone and tells this and that about the situation and the story of the border crossing. At the school nearby they have organized a camp for the DDR-citizens which would be willing to come back from the west, but not a single one did appear yet.
We then stroll around and look behind the fences. There are lots of old fashioned instruments like butter tubs, washing troghs, old field instruments etc. We are afraid (and we are right), that soon this all will be sold to antique shops, the houses will be restaurated in a sterile style, the streets paved and plane, they will install the satellite antennas at the front of the houses. So let us enjoy the present picture of the village as remembered from our childhood.
Finally we find a watchmaker's shop and this is open. The shop is full, many people are interested to buy a piece of memory on this remarkable day. Some try to make a deal and drop the price. We are ashamed and think this to be a typical capitalistic behaviour. We think about the fact, that this place has not seen so many people during more than the last 45 years since the end of the war or longer. The clockmaker is born in 1953 as it is to be read from a master's certificate at the wall. We buy our piece of memory: a kitschy farmer's pipe with a pipe-head of porcelain. (It is still hanging at the wall of our bedroom).
With the pipe in our hands we stroll on and throw a view into the windows of the supermarket. There is a lot of stuff like washing agents or spirits. But when the DDR-citizens come to buy in the west they prefer fresh vegetable, oranges, bananas, imported ware, electronic gear and TVs. At next they will buy cars as if they were crazy. As well we meet some people from the west, an elegant couple in the order: at first the TV camera, then fur coat and lady, who try to film everything and all. May be they have better gone to any zoo or amusement park.
We return to the evangelic church for a last time. Now there is an official person who replaces the priest. This has gone to Schöningen for a first common worship. He tells something about the history of the location and the church and we hear about the difficulies to preserve the state of the building. As we leave we have another chat to Mrs. W. with tears of joy. They are so surprised, that so many people have come from the west. Two days before they did not know, what could happen today. "Why have we been so afraid such a long time?" she says. We think this was caused by the terror and pressure of the socialism. We say good bye - Auf Wiedersehen - and feel that we can see us again whenever we want.
As we go out someone whirls around the corner, someone with a child on his back and somewhat wild black hair. This is the priest and now he is in a hurry for he missed to welcome the guests all the time.
We have been pretty early for more and more crowds now appear. We take a piece of concrete as an additional piece of memory from the frontier with us. Stefanie will show it at school when they discuss the present development. We have a final cup of coffee at the Fährhaus and then take a bus back to our car.
As we ride back home we feel quite stunned and we know: in our life we will never forget what we have seen today.
---
Back to the DDR-Page

Back to the HomePage